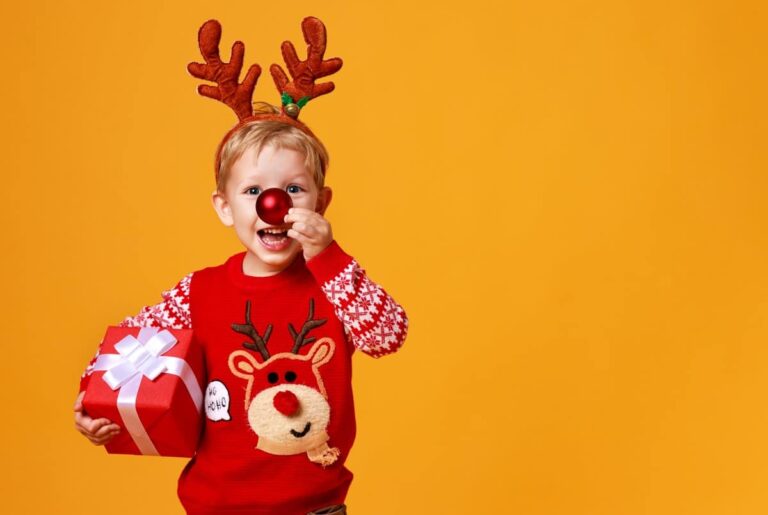 It's important to have a great oral care routine for kids during the holidays. After all, there's a good chance that everyone in your family is snacking a little more than they normally do. With great hygiene and understanding the importance of healthy eating habits, you can avoid an emergency trip to your family or pediatric dentist in Brighton!
Here are 10 easy steps to help your child enjoy a healthy smile this holiday season:
1. Drink Lots of Extra Water
Did you know that most people statistically drink less water during winter months than they do the summer? Water is a natural cleanser and it also contains fluoride. Fluoride is important for strong teeth and bones. Encourage your child to make sure they're drinking enough during the day. Tap water is best since it has regulated mineral levels (bonus: it's also cheaper!)
2. Make Sure You Clean Between
With all of the extra sweets your family plans on eating over the holidays, make sure your kids are cleaning between their teeth each day. Floss picks are great to have on hand, so keep them in a jar on the bathroom counter or even in the car. As kids get older, you can start to transition them to traditional floss.
3. Pass on the Sticky Stuff
Choosing the lesser of two evils is sometimes the best thing for our teeth. Especially if you're a child who wears braces or has dental sealants. Avoid peanut brittle, caramel, or other hard and sticky textures that might break or pull something off.
4. Make Fresh Fruits and Veggies Accessible
You probably have a lot of holiday treats sitting around this time of year, but stock up on some apples, carrot sticks, celery, and other fresh produce too. Encourage your child to eat crunchy fruits and veggies when they need an afternoon snack.
5. Stuff That Stocking with an Electric Toothbrush
Kids tend to clean their teeth better with an electric toothbrush than they do a manual one. Depending on your budget, you can spend anywhere from $5 and up for a kids' electric toothbrush. Some of today's models also have corresponding apps that show your child how and where to brush.
6. Set a Timer
Kids should be brushing their teeth for at least two minutes twice a day. A small timer is a great tool to have on hand. Otherwise, you could also play their favorite song on your phone or the radio (because it probably runs a little longer than two minutes!)
7. Squeeze in That Last Checkup
Your dental insurance usually covers two cleanings and checkups per year. If you haven't gotten your family's in yet, there's still time.
8. Check Their Brushing Routine
When your kids are at home more during the holiday break, use that opportunity to check their brushing habits. Are they using their toothbrush correctly? Cleaning every tooth, especially along the gumlines? How quickly are they brushing? You might want to pick up some disclosing tablets to check that everyone is cleaning their smile well.
9. Add Fluoride Mouthwash
A great oral care routine for kids includes fluoride mouthwash at bedtime. Don't eat or drink anything after, so that the minerals can stay on your teeth. Be sure to use the rinse after brushing and flossing, so that it can soak into the enamel as best as possible.
10. Enjoy in Moderation
Learning the importance of healthy eating habits includes when to eat "bad" snacks. To limit sugar exposure time on teeth, have dessert right after a meal. Try to avoid snacking on little bits here and there throughout the day, as it prolongs the length of time that sugar comes into contact with your child's teeth.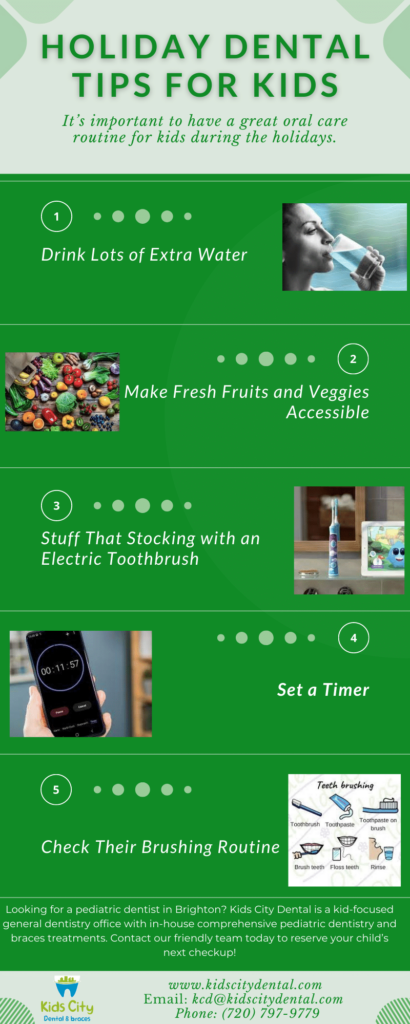 Kids' Dental Exams in Brighton
Looking for a pediatric dentist in Brighton? Kids City Dental is a kid-focused general dentistry office with in-house comprehensive pediatric dentistry and braces treatments. Contact our friendly team today to reserve your child's next checkup!