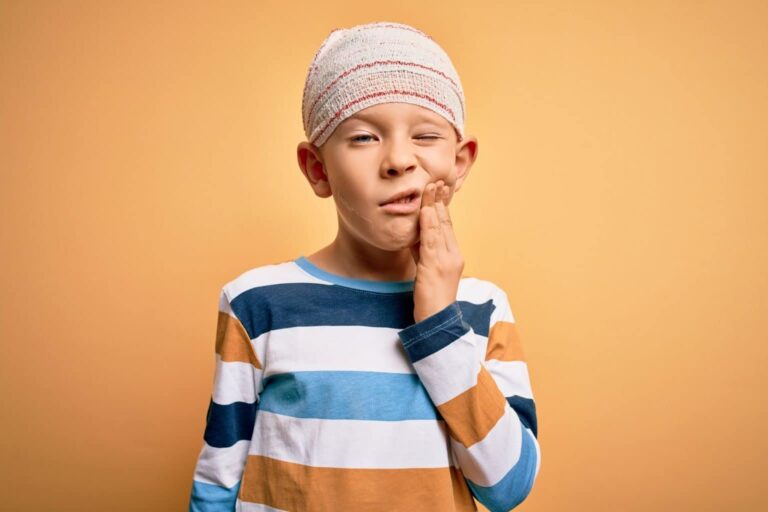 As a parent, your child's safety and well-being are always a top priority. However, accidents can happen, and it's important to be prepared for any potential dental injuries that may occur. In fact, kids are highly prone to dental injuries during athletic activities and during breaks between school, when they're more active outdoors.
Whether it's a chipped tooth or a busted lip, it's important to know what to do in case of a dental emergency. In this blog, we'll cover some common pediatric dental injuries that we see in our Brighton dental office and what steps you should take to address them.
A Chipped or Knocked Out Tooth
If your child has a chipped or knocked-out tooth, it's important to act quickly. First, try to locate the missing tooth or tooth fragments, as there may be a chance for it to be re-implanted or re-attached. If you're able to find the tooth, rinse it off with water, being careful not to scrub the root or touch the root if possible. Try to place the tooth back in its socket and have your child bite down on a clean piece of gauze or cloth to hold it in place.
If you're unable to re-implant the tooth, place it in a container. Then cover it with milk or contact solution and bring it with you to our emergency dentist. It's important to seek dental care immediately, as most situations need to be addressed within the first 1-2 hours.
If your child has a chipped tooth, you can have them rinse their mouth with warm salt water and use a cold compress to reduce any swelling. If the chip is minor, it may not require immediate dental attention. However, if the chip is more severe or if there is any pain or sensitivity, it's important to contact an emergency dentist right away. Store the tooth fragment the same as mentioned above, and bring it to our emergency dental office in Brighton.
Busted Lip or Gums
If your child experiences a busted lip or gums, the first step is to gently clean the area with a wet washcloth or gauze. Apply a cold compress to the affected area to reduce any swelling. If there is any bleeding, apply pressure with a clean cloth until it stops. If the bleeding persists or you suspect a broken jaw, seek emergency dental care immediately at the nearest hospital.
At-Home Pediatric Dental Injury First Remedies
There are several at-home remedies that may help alleviate pain or discomfort until you're able to see your emergency dentist. Over-the-counter pain medications, such as ibuprofen, may help reduce any pain or swelling. Applying a cold compress to the affected area can also help reduce swelling and numb the area. If your child experiences a toothache, gently flossing around the affected tooth may help dislodge any food particles lodged under the gums that may be causing the pain.
Who to See for Emergency Dentistry (for Kids)
It's important to see a pediatric or family dentist for any dental emergency involving children. Not all dentists are equipped to handle pediatric dental emergencies, and it's important to seek care from someone who has experience working with children. At Kid City Dental, our team is trained to handle pediatric dental emergencies and provide gentle, compassionate care for your family.
Even if it's after hours, be sure to call for advice. Leave a message with a call-back number, and someone will be in touch with you as soon as possible.
Emergency Family or Pediatric Dentist Near You
If you're in need of emergency dental care for your child, don't hesitate to contact our office. Our team is here to provide the care and support your child needs in the event of a dental emergency. We offer same-day appointments and are always available to answer any questions or concerns you may have. Call now for an appointment.