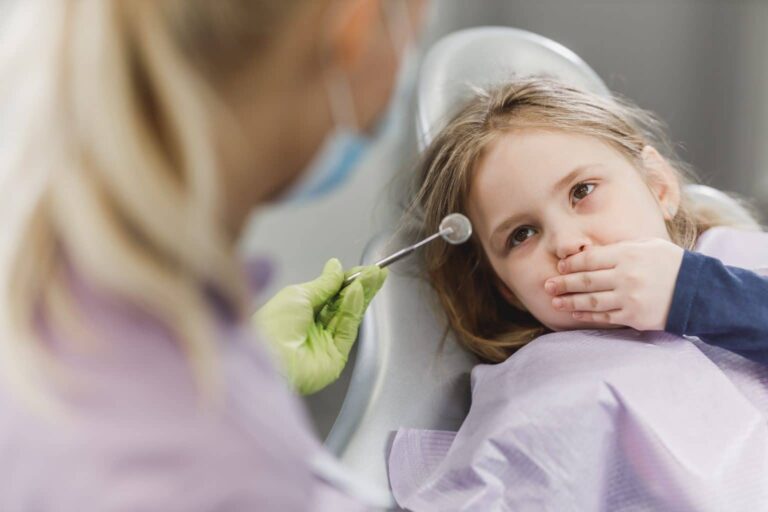 The unknown can be scary for many of us, especially when it comes to a trip to the dentist's office. Without early positive experiences, some kids may develop a fear of the dentist from a young age. In fact, many adults are anxious about visiting the dentist because of what happened at their childhood dental checkups. That's why we strive to establish a positive, long-lasting relationship with our pediatric patients. With the advances in minimally invasive dentistry, there's no reason for children to fear the dentist. Especially at Kids City Dental — the best kid's dentist in Brighton, CO.
It is important to ensure that your child has an enjoyable and positive visit to our office. This will set them up for good oral health throughout the rest of their lives. If you're wondering how to fix dental phobia in kids, these are some ways to make your child's visit to the dentist a positive one.
Start Early
Many family dentists are inclined to wait to recommend a "first checkup" until a child turns 2, 3, or 4 years old. By this time, all primary teeth are present and there may be early signs of disease. This could mean a painful first appointment that requires injections or restorative treatment, as opposed to a prevention-focused cleaning and exam.
Children should be seen before any decay or disease occurs. This approach will help them avoid any painful or frightening first appointments. Preventive services are more comfortable and non-confrontational.
It's a good idea for a dentist to see your children before their first birthday. As your children grow up, we'll be able to leave a lasting impression on them where they view dental care in a positive light.
Schedule a Consultation Only
If you're wondering how to help a child with a fear of a dentist, the first trip to the dentist may not be the easiest. Instead of a checkup, it's best to arrange a simple meet and greet so your child can get to know the team and dentist, tour the office, and perhaps have a quick exam. If possible, bring your child to bring a friend or sibling's visit to watch them get their teeth cleaned.
Put On a Brave Face
Children are influenced by their parents' emotions, and they will react the same way to adults who show anger, fear, or nervousness. It's important to keep calm and be positive, no matter what. Your child will be able to follow the routine easily if you keep your own reservations to yourself.
Use Positive Words
When speaking to your child about upcoming dental visits, use positive words that make the experience sound pleasant and exciting.
One of the best tricks to prepare a child for dental work is to avoid using terms that could make your child anxious or scared. Use "clean" rather than "scrape," "funny flavor" instead of "bad taste," and "tickle" is better than "poke." Last but not least, never say the words "shot" or "hurt."
Don't forget that staying positive will help set your child up to have a good experience.
Practice at Home
You can practice playing dentist at home with your child before their first appointment. Have them brush your teeth and vice versa. Tell your child that the dentist will check all of their teeth and clean them with a special toothbrush.
Why Baby Teeth Are So Important
Although baby (primary teeth) are only temporary, they are still very important in your child's development. These teeth play a vital role in influencing your child's speech, facial features, and alignment of their permanent teeth.
The primary teeth are space keepers until permanent ones start to erupt. Losing a baby tooth too early can have negative consequences, such as crowded teeth or speech delays. Regular dental cleanings and checkups are important to ensure your child's dental health, regardless of age.
Book Your Child's Next Visit
At Kids City Dental, we want to make your child's visit as fun as possible. Give us a call to schedule their next appointment!