Did you know that tooth decay is one of the top reasons why children miss school days? Our Kids dentist in Brighton is committed to helping families enjoy healthier teeth through proven preventative strategies. But even if they do need care, we can intercept it while it's small (reducing the need for pediatric sedation Brighton.)
As your family prepares for back to school, here are some important tips on enjoying a healthy smile through the upcoming months:
Re-Vamp Everyone's Brushing Routine
Now that your family is transitioning from the "lazy" days of summer, toothbrushing may be the last thing on kids' minds before they head out the door for school. But ideally, you want to be brushing twice a day for a minimum of two minutes at a time.
Make sure you establish a great brushing routine after breakfast before your child grabs their backpack. Those two minutes are priceless. And after the day is over and the homework is complete, have them brush again before they head to bed. It's only four minutes total of their day, but the payoff is crucial when it comes to avoiding preventable dental disease. While you're at it, make sure their toothpaste contains fluoride.
Have Healthy Snacks on Hand
Just like the rest of your body, your smile is what you eat. Diets high in processed foods and artificial sweeteners are more likely to involve cavities. But fresh fruits, vegetables, whole grains, and certain dairy products help you have healthy teeth.
Here are just a few smart snacks to get you started:
Sharp cheddar cheese
Carrot sticks
Celery and hummus
Whole-grain crackers
Apple slices
Air-popped popcorn
Roasted nuts
While we're talking about snacking, try to have your child eat at specific times in the day. Each time they snack, bacteria produce acids on their teeth for about 30 minutes. More frequent snacking means more acid exposure, which increases their cavity risk.
Stock Up on Floss Picks
Brushing only cleans about 60% of tooth surfaces. You also need to clean in-between! Our kids dentist in Brighton recommends keeping plenty of disposable floss picks in the bathroom, car, or even in your child's backpack for them to use after they eat. A great flossing routine will lower your child's cavity risk and the need for complex procedures that require pediatric sedation (Brighton.)
Opt for a Refillable Water Bottle
Your municipal water supply has regulated fluoride levels. And fluoride—like calcium—is essential for strong bones and teeth as your child grows. Our kids dentist in Brighton recommends drinking tap water over commercial bottled waters because of the monitored mineral content. So, if your child likes to have water bottles in their backpack or for extracurricular activities, invest in a nice reusable bottle instead.
Send a Toothbrush to School
Having an extra toothbrush tucked away in your child's backpack is a great idea. Especially if they're in braces. Keep a travel-sized bag with a toothbrush and toothpaste for them to clean their teeth after lunch or whenever they get a break. This step isn't a must, but it's extremely beneficial.
Schedule a Checkup ASAP
"Routine" checkups with a kids dentist in Brighton make it easier for your family to get ahead of cavities and dental infections. Plan to schedule an exam and cleaning for your child every six months. We'll evaluate their teeth, seal permanent molars, apply fluoride, and perform professional cleanings to help keep their enamel strong between checkups.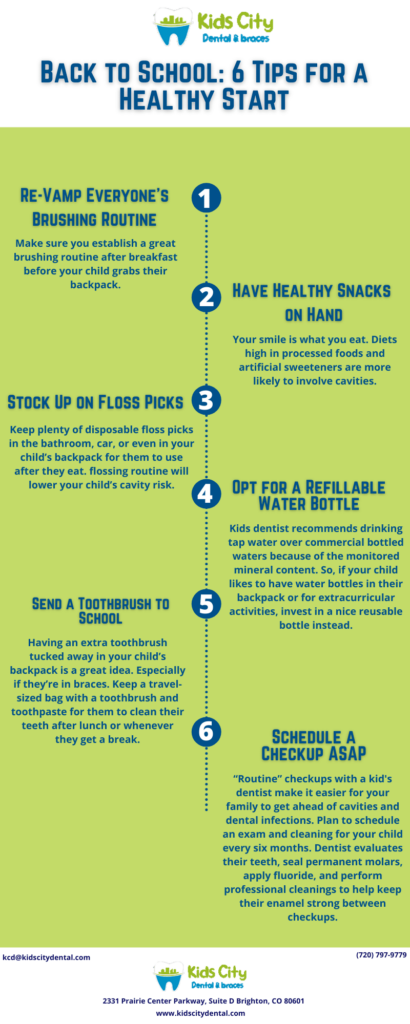 If your child needs treatment, we offer pediatric sedation (Brighton) to ensure a comfortable and efficient experience. They'll be back to smiling again in no time!
Is your child due for a checkup? Are you ready to plan your family's toddler or baby dental exams in Brighton? Contact Kids City Dental today to get started!